Charlotte Mahdavy…
... a toujours eu un goût certain pour l'esthétisme. Avant de démarrer sa vie d'artiste, la jeune créatrice se forme chez l'Oréal, où elle dirige plusieurs designers, oeuvrant à mettre en avant la beauté. « C'est en s'inspirant des belles choses que j'ai formé mon regard au contact du monde » déclare-t-elle.
D'origine franco-iranienne, Charlotte Mahdavy est une artiste émergente qui côtoie le monde de l'art dès le plus jeune âge. Son regard artistique s'est forgé des sa plus tendre enfance, grâce à ses études et voyage à Paris, New York et Miami. Sa vision d'enfance définit sa vie, elle fait ses études dans une Ecole D'art Supérieur et retourne à New-York pour étudier à la FIT (Fashion Institut of Technology). Lors de son séjour à la grosse pomme, elle court de musées en musées, échange avec des artistes et se familiarise notamment avec le milieu du Street Art. Elle continue ensuite avec des études en communication visuelle à Paris, où elle débute sa vie professionnelle. En 2015, elle part s'installer à Barcelone, véritable berceau des oeuvres de l'artiste.
L'essence urbaine est comme une muse pour Charlotte Mahdavy, elle la fascine, l'enivre et l'inspire. Selon l'artiste, « une ville laisse ses empreintes au sol, sur les murs. Elles révèlent ce que la ville est, son identité, son oxygène. Je viens imprimer la ville sur la toile ».
Charlotte examine, écoute, contemple et scrute les détails de la ville afin de capturer chaque fragment, chaque détail et chaque trace, qui deviennent alors des témoignages biographiques. Le frottage de plaque au sol et le collage de journaux, affiches ou flyers forment la substance des oeuvres de la jeune artiste : Charlotte fait de sa source d'inspiration sa matière première.
Si les travaux « Serendipity » et « BCN, I'm Icon » sont marqués par le Pop Art, on y retrouve également une importante influence du Dadaïsme, de Jean-Michel Basquiat ainsi que de Jacques Villeglé, célèbre pour l'usage d'affiches dans ses créations. Alors que la rue est littéralement la toile de fond des oeuvres de Charlotte Mahdavy, elle s'affranchit nettement du Street Art, du fait de son hommage assidu à la beauté, l'art et le glamour.
Charlotte Mahdavy…
... siempre ha tenido un cierto gusto por lo estético. Antes de iniciar su vida artística, la joven creadora se forma en l'Oréal, donde dirige a varios diseñadores, trabajando para poner de relieve la belleza. « Inspirirándome con las cosa bellas me ha permitido ajustar la mirada al contacto con el mundo ».

De origen franco-iraní, Charlotte Mahdavy es una artista emergente que ha convivido con el mundo del arte desde pequeña. Su mirada artística se ha ido formando en la infancia gracias a sus estudios y viajes a Paris, Nueva York y Miami. Su visión de la infancia define su vida y empieza a estudiar en una Escuela Superior de Arte. Luego, se instala en Nueva York para estudiar en la FiT (Fashion Institute of Technology). Durante su estadía, visita cada museo, intercambia con varios artistas y se familiariza con el mundo del Street Art. Posteriormente, sigue sus estudios de comunicación visual en París y empieza su vida profesional. En el 2015, se instala en Barcelona, verdadera cuna de sus obras artísticas.
La esencia urbana es para Charlotte Mahdavy una musa, que la fascina, la embriaga y la
inspira. Según la artista « una ciudad deja sus huellas por el suelo y las paredes. Éstas
muestran lo que la ciudad es en su profundidad, su identidad, su oxígeno. Y yo vengo a
imprimir la ciudad sobre el lienzo. Charlotte analiza, escucha, contempla y busca cada detalle de la ciudad para capturar cada fragmento y cada huella, que se convierten entonces en testimonios biográficos. La técnica de frottage del pavimento y de collage de periódicos, carteles o folletos forman la sustancia de las obras : Charlotte hace de su fuente de inspiración su materia prima.
Si los trabajos « Serendipity » y « BCN, I'm Icon » se caracterizan por el Pop Art, también se puede encontrar una importante influencia del dadaísmo, de Jean Michel Basquiat y de Jacques Villeglé, conocido por usar carteles en sus creaciones artísticas. Mientras la calle es literalmente la tela de fondo de las obras de Charlotte Mahdavy, ella se libera claramente del Street Art, gracias a su homenaje asiduo a la belleza, al arte y al glamour.
Traduction: Ornella Pizzamiglio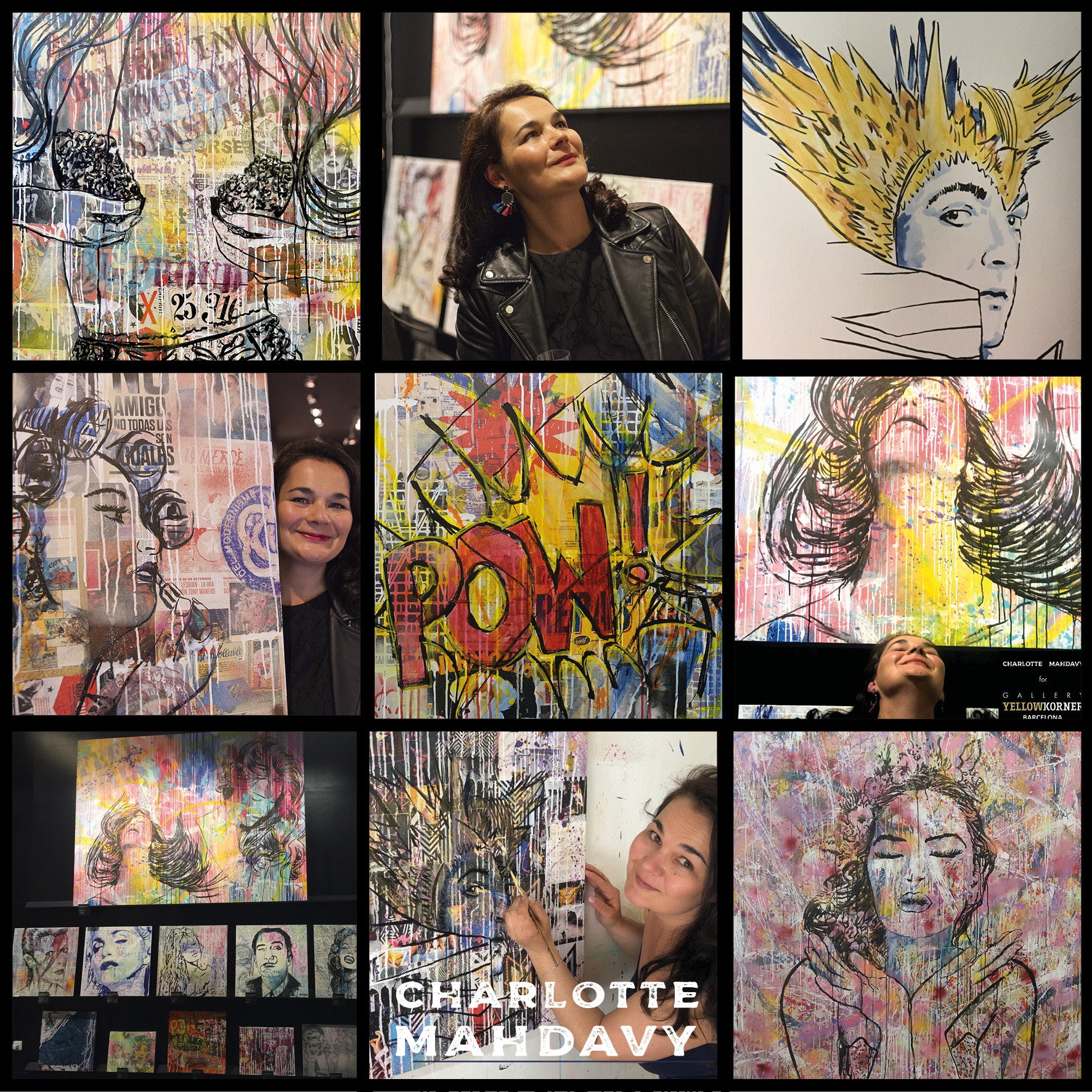 Charlotte Mahdavy…
... has always had a taste for esthetics. Before embarking on her journey as an artist, she worked at L'Oreal, where she directed several designers, always striving for beautiful design. "Being inspired by beautiful items has shaped the way I look at the world," she states.
With Franco-Iranian roots, Charlotte is an emerging artist who has immersed herself in the world of art since a very young age. She studied in Paris, New York, and Miami, and travelled extensively, which developed her keen ability to see the world artistically. This defined what she wanted to pursue and led her to study at the École Supérieure d'Art et de Design in Reims, France, and to later return to NYC to study at the Fashion Institute of Technology. While in the Big Apple, she devoured museums, frequented artists, and fed her curiosity for Street Art. She later continued her studies in visual communications in Paris, where she began her professional career. In 2015, Charlotte moved to Barcelona, a city renowned for incubating art of all types.
Urban life is Charlotte's muse. It fascinates and inspires her. She explains that "a city leaves its fingerprints on its streets and walls. These reveal what the city is, its identity, its oxygen. I am here to imprint the city on canvas."
Charlotte examines, listens, and contemplates Barcelona's details in order to capture each fragment, feature, and mark, all of which become biographical records. Her primary materials are found in the city itself; she rubs designs found on the streets and uses local newspapers, flyers, and posters in her collages. Charlotte's source of inspiration is her both her subject matter and material.
Numerous influences can be seen in both projects, "Serendipity," and "BCN, I am an Icon," including Pop Art, Dadaism, and street artists ranging from Jean-Michel Basquiat to Jacques Villeglé, famous for using posters in their work. While the street literally forms the background of Charlotte's work, she differentiates herself from typical street artists with her consistent homage to beauty, art, and glamour.
Traduction: Caroline Boussenot